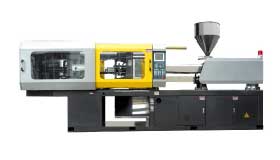 PET machine
PET Machine series:
PET machine is designed and manufacturered based on the PET material property, the molding requirements and our experienced engineering team.PET machine is a special for the application for PET molding. DAKUMAR PET machine mature design satisfied the market with PET machine molding function.

PET Moulding Machine
PET machine series are designed and manufactured according to
PET moulding Machine
technologies, professional screw and barrel design, precise temperature controlling system, special ejector design. In order to shorten the PET preform moulding cycle time, Dakumar has designed the special cooling device which can help the PET perform cooling outside of the mould. Our PET machines are available for servo motor type with the hydraulic system and plasticizing system, the controlling system are also optional. Dakumar has supplied so many turnkey projects for PET preform moulding to different countries. It is one of the main products range for us, we are investing so many on PET injection molding machine researching and developing.
Thanks to years of experience in multi-turnkey projects with PET machine for our customers. Dakumar offers a full series PET machine for big, medium and small mouth
PET performs production
. Each model is designed to satisfy the special requirements of PET resin.
PET machine series:
According to the material property of PET and the molding requirements of it, our experienced engineering team designed the
PET machine
especially for the application. Its mature design satisfies all our customers in PET molding production.
PET machine basic specifications:
1. Big diameter screw design and L/D ratio.
2. High plasticization capacity.
3. Extended machine framework, enlarged space between tie bars, mold opening stroke, mold thickness, and ejection stroke.
4. Specialized screw set for PET+FB or slice PET are on request as option.
5. Four or above stages precise temperature PID control for barrel.
6. Spring nozzle for the PET machine below 650T, hydraulic nozzle for 650T, meeting customers' special requirements by effectively avoiding overflow.
7. Dehumidifying dryer selected for PET resin's special demands of removing moisture.
8. Suitable for both varied pump and standard pump.