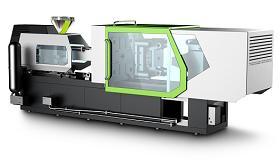 High speed injection molding machine
These series machines take the accumulator to help inject, which having high cost performance improve the speed; quicken the machine circle time, higher the efficiency, and especially suitable for the ultrathin, precious and complicated products.

Dakumar high speed injection moulding machine from the model Nr. DKM118 to DKM780, the standard high speed injection moulding machines are equiped with accumulator to realize the high speed turning of the screw. The optional for high speed mould close and mould open are also available. Dakumar high speed injection moulding machine has the special design for the machine's base, machine's frame and especially the clamping system. In the past several years' international fair, Dakumar high speed injection moulding machines are always displayed. The high speed, precision injection... all these has got the high praise from all the visitors and all our high speed injection moulding machines' user.
Absorb pulsations of energy from the multi-piston pump.
It also helps protect the system from fluid hammer. This protects system components, particularly pipework, from both potentially destructive forces. An additional benefit is the additional energy that can be stored while the pump is subject to low demand. These are often placed close to the demand to help overcome restrictions and drag from long pipework runs.
An accumulator can maintain the pressure in a system for periods when there are slight leaks without the pump being cycled on and off constantly. When temperature changes cause pressure excursions the accumulator helps absorb them.
Low noise Hydraulic circuit high efficiency Injection.
Blanced and high speed mould clamping and opening Precise temperature controllingPrecise shot weight controllingOutstanding energy saving with high return of investment
1.high speed injection moulding machine Clamping Unit
The new generation toggle mold locking device and computer emulation optimized toggle parameter makes motions of the moving plate fast and steady. When combining the box type moving plate, fixed plate and high rigidity toggle structure, the characteristic of high strength and anti-fatigue is secured. Compared with similar machines, it owns bigger internal spur between tie bars, mold space and mold opening stroke and may process plastic products of bigger size.
2.high speed injection moulding machine Hydraulic Unit
High efficientcy, energy saving and high precise proportional pressure and flow variable displacement pump system makes the hydraulic system output match the required power for entire machine operation without high pressure throttle and overflow energy loss. Compared with constant displacement pump, it saves power by 30%-60%. A motor with same power may be fitted with an oil pump of bigger displacement and thus accelerate the machine speed. Besides, the low oil temperature will prolong the service life of sealing elements.
Use of imported high performance precise oil filter device will further prolong the normal operation of hydraulic system. Buffer device is used in every mold opening and clamping oil way to ensure steady mold opening and clamping operation without any impact. Besides, differential mold clamping operation is fitted to ensure high production efficiency.
3.high speed injection moulding machine Injection Unit
Short and forceful double-cylinder injection system is used to ensure the stead injection motions. The strain free fixed mold plate and screw assembly with optimized design help to reach better plasticating capacity and effect. The screw head and back stop ring made of Japanese high tenacity hot working tool steel by special heating treatment features high temperature resistance, wear endurance and hot burnout resistance, maintaining extremely high hardness during high temperature operation. The screw and material tube made of high-grade alloy steel by vacuum ion nitriding treatment feature high hardness, corrosion resistance and wear endurance .
PID temperature control in combination of high precision electronic ruler and control regulates the speed and pressure of injection, pressure keeping, smelting, back pressure and other motions to ensure the quality of formed products and continuation of production. Auto material preparation, drooling proof, and anti cold start lapse functions ensure the high efficient, simple and safe operations.
4.high speed injection moulding machine Control Unit
High performance special control for injection molding machines. Swith of Chinese and English, clear and visual,and easy operation.