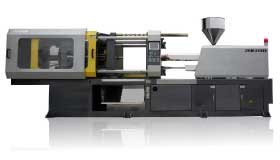 servo injection machine
The machine use the high-performance servo dynamic control system, the oil pump as power source, having the characteristics as follow: high response, saving energy, low noise, high-control precision, and have the breakthrough in the perfect connection of the electrical servo and hydraulic drive system.

Servo injection machine
Dakumar supplies servo injection machines, from the model Nr. DKM50 to DKM1600. Currently the standard servo injection machine is used with the injection machine's hydraulic pump servo motor, for the plasticizing servo motor. It is an optional but it is not the standard servo injection machine. Dakumar has started servo injection machine manufacturing on 2007 year, until now we have delivered more than 600 sets of different models of servo motor injection machines to all over the world.
High energy savings of

servo injection machine
Under normal operating conditions, compared with conventional hydraulic injection molding machines, energy savings of 20-80% can be achieved.
Molding stability of

servo injection machine
Compared with conventional injection molding machines, repeatability is greatly improved due to servo motor closed-loop control.
Quick response of

servo injection machine
Featuring a dynamic servo motor with a response time of only 0.05sec.
Quiet operation of

servo injection machine
The machine runs at much lower noise levels, particularly in low speed applications.
Reliable holding pressure of

servo injection machine
Compared with traditional hydraulic machine the holding pressure is more stable and does not have limitation.
Better oil temperature stability of

servo injection machine
The servo system only delivers hydraulic oil as it is needed for the various functions. This prevents unnecessary generation of heat and substantially reduces oil cooling requirements.
DKM Electro-hydraulic servo system uses the slim motor design which the moment of inertia is small, coupled with the most advanced DSP computing device, to realize the oriented vector control of magnetic field. The system has fast response. Part of the servo motor can reach the maximum speed 2,500 r/min, and the change of the speed from zero to maximum speed only needs 36 ms. Actions, such as the opening and closing of the mould, injection table movement, ejector pin moving forward and backward, are obviously speed up, shortening the formation cycle time and improving productivity.
Servo injection machine

precision
We take the high-precision spinned transformer which reach 4096 pulse/r as the feedback element of motor rotate speed (flow) and take the high-precision tension sensor as the feedback element of pressure. And control the pressure and flow with double-closed Loop. Realize various control calculation using high-speed DSP which make it real to keep the average pressure inaccuracy within 0.5 bar and the inaccuracy of rotate speed control within 0.1%, and the hysteresis hoop is zero. Hence, the repeat accuracy of product weight is very high that meet customer's need to pursue the high precision in production.