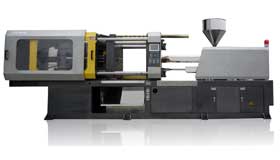 variable pump moulding machine
The Variable Pump Moulding Machine use the a high response proportional variable-capacity system, make RMS of the hydraulic system match to the Variable Pump Moulding Machine running energy, avoid throttling and loss of overflow energy tremendously, decrease the machine Calorific value, and save the electricity from 30%~60% compared with the common standard machine, the economic efficiency will be more obvious, which could provide our customers with broad room to choose.

Moulding machine - Variable Bump Models
Dakumar variable pump moulding machine series model Nr. From DKM50 to DKM1080, the variable pump is a wise hydraulic system which can deliver the hydraulic oil according to the demanding of the moulding machine's different actions, this function can help to save an injection moulding machine's electricity power comsuming by 30 to40%. it is also avoid the hydraulic oil's high temperature because of long time high pressure and high speed flowance. DAKUMAR variable pump moulding machine is stable, high efficient, also with lower hydraulic sytem noise.

According to the material property of PET and the molding requirements of the moulding machine, our experienced engineering team designed the machine special for the application. Its mature design satisfies all our customers in PET molding production .
1、Big diameter screw design and L/D ratio.
2、High plasticization capacity.
3、Extended machine framework, enlarged space between tie bars, mold opening stroke, mold thickness, and ejection stroke.
4、Specialized screw set for PET+FB or slice PET are on request as option.
5、Four or above stages precise temperature PID control for barrel.
6、Spring nozzle for the machine below 650T, hydraulic nozzle for 650T, meeting customers' special requirements by effectively avoiding overflow.
7、Dehumidifying dryer selected for PET resin's special demands of removing moisture
8、Suitable for both varied pump and standard pump

Dakumar machinery Co.,Ltd. Is an injection moulding machine manufacture base, devoted to injection machine manufacture, research and marketing, located in Huangyan city, China mould town. By bringing in German high-tech injection solution, Dakumar moulding machine ranks on the top of the international injection moulding machine market, holding its advantage of best elements setting, high technology, superior precision controlling and through energy conserve mentality.