Bakelite Machine
DAKUMAR Bakelite Machine have had completed solution for thermoset plastic. Bakelite Molding Machine series own special screw & barrel design which mainly used for thermoset plasic products.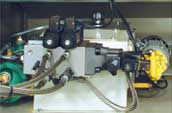 DaKumar specializes in the production of Bakelite machine along with many other state of the art equipment. It comes with a very high plasticizing capacity. A special plastic injection system is used to ensure that the molten material does not cure the machine barrel. The barrel temperature control system provides 2 types of functionalities– 1) the electric heating coil and the water jacket combination system; 2) hot oil mold temperature dual channel system. Custom mold heating is provided as per user needs. The requirements of the customers are noted down and dealt with in the most understanding manner. One can choose from a wide variety of already designed Bakelite machines, or if they have special requirements, they can also go for the custom made ones.The pump source power drive system takes into account the thermosetting products. The cooling time is longer than usual and it provides quantitative pump servo motor drive system. A three phase asynchronous motor drive variable pump system is used to save energy, and create more economic benefits for the users as well as the environment.The BMC Bakelite machine comes with a special thermosetting injection molding technique. The machine comes with many unique functions. The specifications of the machine are given below:·Clamping Force: 5 ~ 380 tones·Chot Weight/Weights: 48 ~ 1287 grams
A special screw and barrel design is used in the machine. It is mainly used for thermoset plastic products. It saves energy, is less time consuming and gives great results.