On June 15th, the 18th Saudi International Packaging and Printing Industrial Exhibition, Saudi Print & Pack, concluded successfully after a four-day event in Riyadh. This exhibition is an important gathering place for global industry experts, assisting exhibitors from around the world in establishing business connections, forming partnerships, and staying updated on the current market conditions in the Middle East region.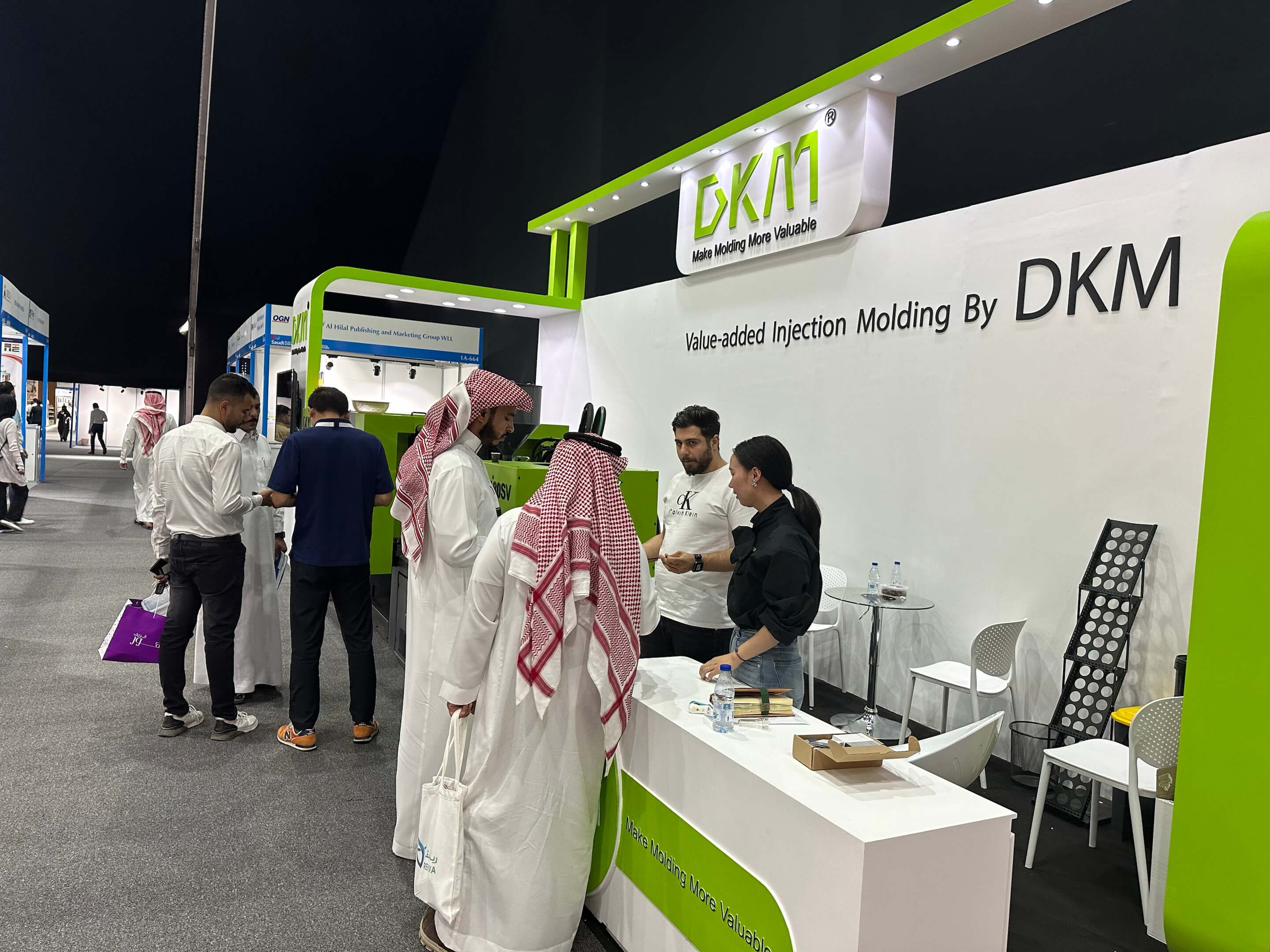 DKM, together with its servo series injection molding machines, participated in the exhibition, showcasing the intelligent injection molding capabilities of DKM to visitors and fostering technological exchanges, innovations, and advancements in the field.
At this event, DKM exhibited its one-stop intelligent injection molding demonstration solutions tailored for the packaging industry. The injection molding features of low energy consumption, high efficiency, and high stability attracted numerous visitors, who stopped by to watch, inquire, and engage in in-depth discussions. Several overseas customers expressed a strong willingness to cooperate.
Today, industries worldwide are exploring energy-saving and emission-reduction paths under the dual-carbon target, and the packaging industry, known for its small profit margins and high sales volume, is no exception. In this regard, DKM's servo injection molding machines strike a balance between injection quality and energy efficiency, meeting the requirements of the Saudi and Middle Eastern packaging markets for low-carbon and efficient production of injection molding machines.
The showcased DKM-180SV injection molding machine achieved an energy-saving rate of 20% to 80% compared to traditional injection molding machines under equivalent operating conditions. Its servo-hydraulic system features a slender and lightweight motor design with small rotational inertia, coupled with advanced high-speed DPS computing devices, enabling magnetic field-oriented vector control strategies. This significantly shortens the molding cycle of the injection molding machine and greatly improves production efficiency.
The machine utilizes a high-precision rotary transformer with an accuracy of 4096 pulses/revolution as the rotational speed feedback component and a high-precision pressure sensor as the pressure feedback component. It employs dual-closed-loop control for pressure and flow, ensuring high repeatability in product weight and meeting the demand for producing high-precision products.
As manufacturing accelerates towards intelligent, green, and digitalization directions, DKM will continue to deepen its presence in the Middle East region, pursue continuous innovation, uphold its mission, and persistently develop energy-saving, efficient, and highly stable products. DKM aims to demonstrate China's strength in the plastics machinery industry at international exhibitions and provide global customers with more intelligent, efficient, and energy-saving injection molding solutions.