BACK
ChinaPlas
2023-03-28
ChinaPlas 2023 DKM Machinery will present 3 newly developed injection molding machines at SHENZHEN for this China Plas exhibition.
DKM New Technologies Publish in ChinaPlas
In this ChinaPlas exhibition, DKM will show the international advanced technical invention - low inertia and high precision injection molding technology, which is a revolutionary technical achievement providing direction for green and energy-saving development of the injection molding industry, achieve 20% energy saving for standard servo injection molding machine and double injection molding accuracy on the original basis. In order to allow industry professionals intuitively see the actual effect of the new technology, we will test repeated accuracy of DKM injection molding in ChinaPlas through intelligent detection system to get the experience of high precision injection on the spot.
DKM Exhibition Information - ChinaPlas
TIME: From April 17 to April 20
LOCATION: Shenzhen World Exhibition & Convention Center, PR China
BOOTH: 9J31 9J33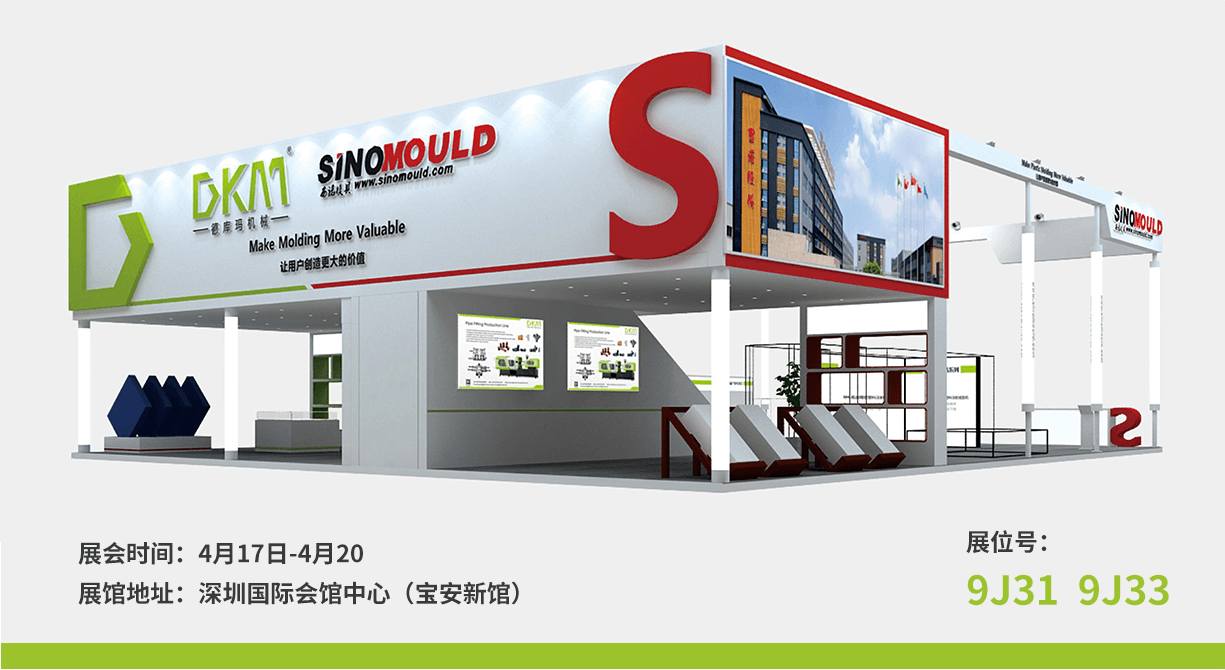 DKM Exhibits in ChinaPlas
DKM Low Inertia Injection Molding Machine: instant start, fast movement, precise stop.
DKM MX Clean Injection Molding Machine: upgrade in the field of medical high clean products molding
PET Preform Injection Molding Machine: a qualitative leap in speed, precision and energy-saving of PET injection molding system
DKM Low Inertia Injection Molding Machine
A new model of high precision, high speed, high energy saving.
Separate storage servo motor from the moving plate of injection unit to reduce inertia in injection molding and control products repeated accuracy within ±2.64‰.
Equip spline transmission mechanism to reduce the transmission force of screw rotation and improve the injection molding response speed.
low heat, high efficiency, large overload capacity and fast response, reducing energy consumption by 15%-20% compared with standard models.

DKM MX Clean Injection Molding Machine
Adopt pure two platen structure, electric ejector cylinder and separate mould platen to avoid oil pollution and ensure clean production.
Adopt linear guide for improved moving accuracy, decreased friction and keeping clamping unit clean.
Adopt separate self-adjusting mould platen to save more than 20% of the clamping force comparing to standard injection molding machine and avoid flash.

DKM PET Preform Injection Molding Machine
PET special screw with large L/D ratio and high plasticization capacity and stable plasticizing process.
PET special screw to ensure high speed and precision of mold opening and closing.
Servo system provides larger injection pressure
Hydraulic motors provide more torque.

Conclusion
Three years later, let's meet again at Shenzhen ChinaPlas. DKM invites customers and friends from all over the world to come together to discuss, exchange and explore the development trend of the global injection molding industry. This is a forward-looking and innovative industry exchange carnival. DKM invites you to attend this 4-day intelligent manufacturing technology feast on April 17.