The input-output ratio will be greatly improved: the most efficient DKM plastic crate injection molding line solution can be provided in the shortest time – 30 days to help customers who are planning to make plant expansion for its plastic crates manufacturing! There are 100% new plastic crate moulds popular among market ready for delivery. Kindly check the plastic crates specifications corresponding to ready plastic crate moulds as below, if any of them is your demand, welcome to contact us for inquiry.
Plastic Crates Display – From the Ready Moulds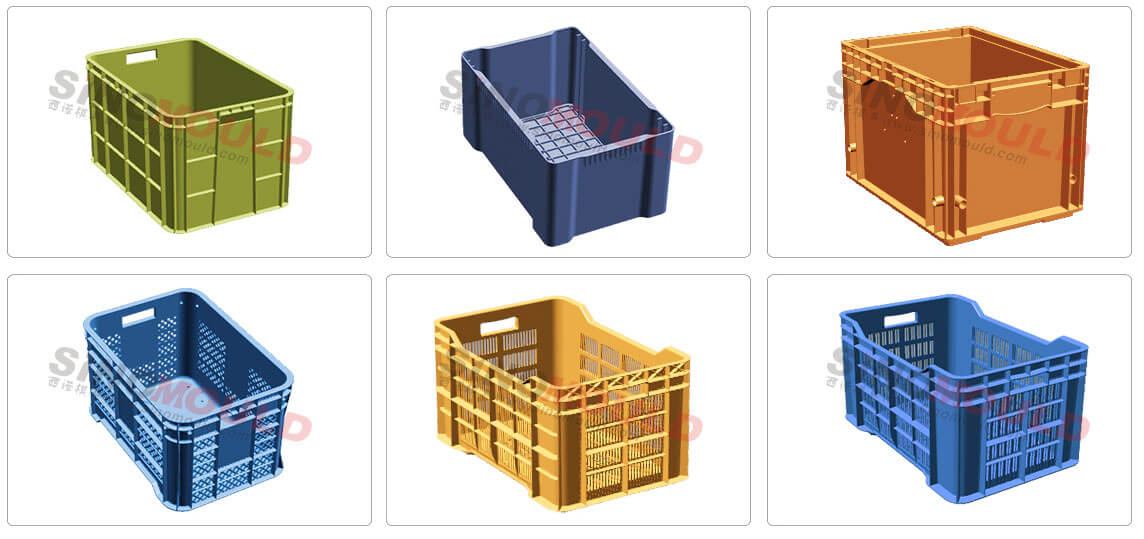 Amazing?! How could it be available? Check the following information to find why we could provide the efficient crate molding lines in the shortest time 30 days. The core abilities are expert crate molding solutions and strong production capacity.
Knows Well on Plastic Crates Molding Requirement
Check it from the following three aspects:
Performance Requirement of Plastic Crates
Nowadays, plastic crates are optimized to be used for various applications, such as logistic solution, retail logistics (storage and order picking), food industry, agricultural industry (transportation and storage of fruit and vegetables), poultry transport, and other general Industries.
And we know well about the performance requirement of different plastic crates thanks to Brother Company Sino Mould co., ltd., usually, customers pay more attention on crate weight, sink mark, strength, stacking ability… that's why we could help customers increase the competitiveness by improving the plastic crates to be better ones. Such as:
Plastic crates with closed bottom and ventilated sides are ideal for most fruit and vegetables transport or storage, as the ventilated sides ensure the excellent airflow that keeps them fresh.
Plastic collapsible crates are popular because of the advantages: foldable, durable, light and a considerable transport cost saving.
Innovative design to easily identify what is in the plastic crate.
About Plastic Crate Moulds
Regarding the general plastic crate moulds, under the best tooling condition, the key technical points to guarantee the final superior crate production are mould steel, injection system, cooling system, ejector system.
Mould steel – choose the most suitable steel for mould main parts and base with the correct harden treatment, ensure the mould life could meet the production requirement. Otherwise, no matter how cheap it is, you could find in the market. But no one could ensure the quality, may be just some steels which could work for a while.
Injection system – for better plastic crate molding, such as, crate molders may use recycled plastic to produce some crates when it is allowed, under this production condition, the mould injection system should be designed well to avoid the damage of small iron piece and the pebbles and prevent them from entering mould cavities.
Cooling system – key design for shortest cycle time which mainly determines to the final production efficiency. Such as independent cooling water channel, cooling channel diameter, the distance between cooling channel and mould molding surface, and so on.
Ejector system – it would help improve the production efficiency too, such as the mechanical ejector system: it could do ejection action while mould opening.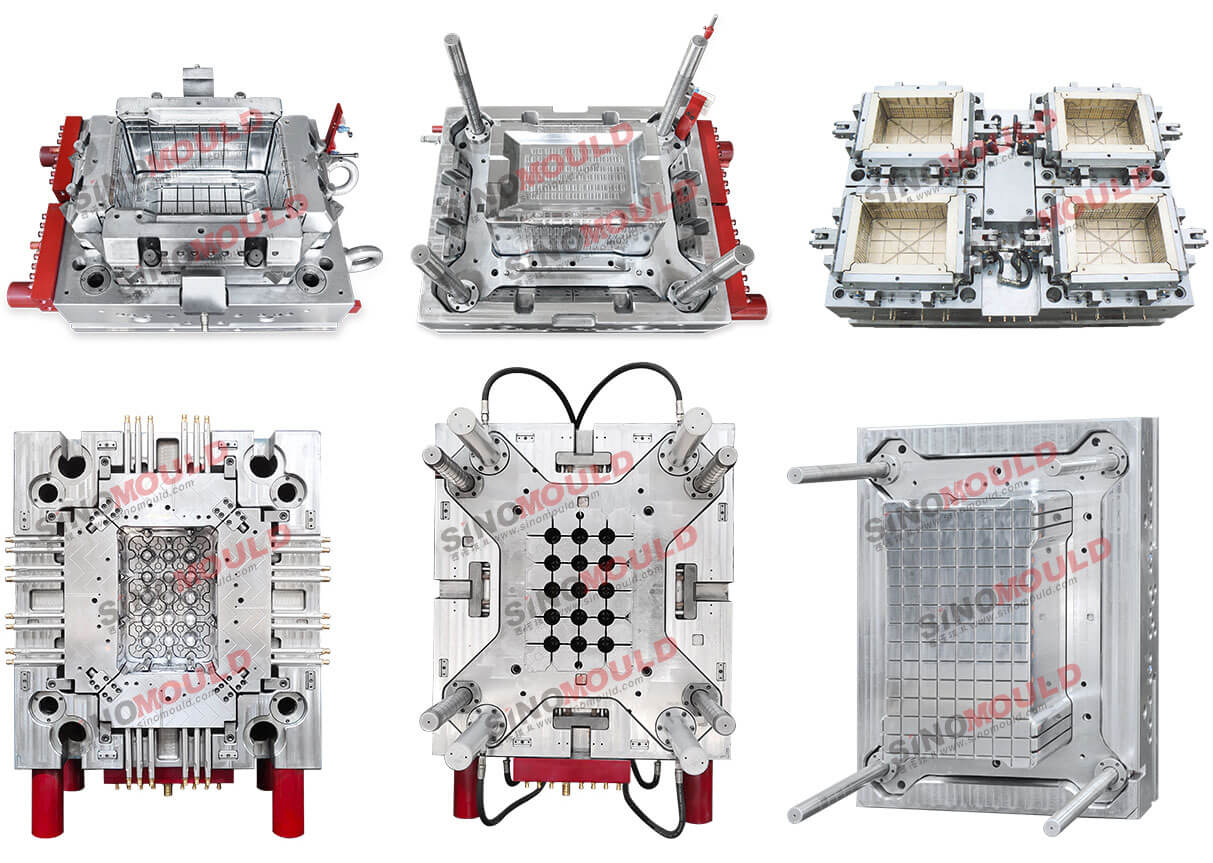 About Plastic Crate Injection Moulding Machines
Generally, the normal plastic injection moulding machines could be used for plastic crates production, but, it could help customers manufacturing the plastic crates more efficiently if the machines have the following highlights, that's what are designed in the DKM plastic injection moulding machines dedicated to better crate molding solution.
Faster melt and injection speed to get better crates and increase the production efficiency.
The machine could make two or three parallel actions, which could increase the production efficiency.
Notice: if you are buying the crate moulds and machines from different suppliers, please note that the size of the plastic crate mould usually would be bigger because of the sliders structure, please pay attention on the tie bar space when confirming machine model.
Excellent One Stop Service
It makes DKM different – one stop purchasing and service satisfying your requirements, help customers save much energy and time which could be spent on other important projects.
Quick calculating production audit.
Designing suitable workshop layout (building layout, water/air/electrical power detailed layout).
Providing all machineries and tools for making plastic crates.
Engineer service for installing, adjusting optimal parameters and running all equipment.
Training your workers to be familiar with operation quicker.
Strong technology support for further lines improvement.
Leave Your Message for an Instant Reply
Looking for reliable manufacturer in China to expand your plastic crate manufacturing business quicker? Contact us now! Start your new plastic crate molding line in the shortest time 30 days. Dedication to complete each process, helping customers start production quicker and keep stable running is the ultimate goal.